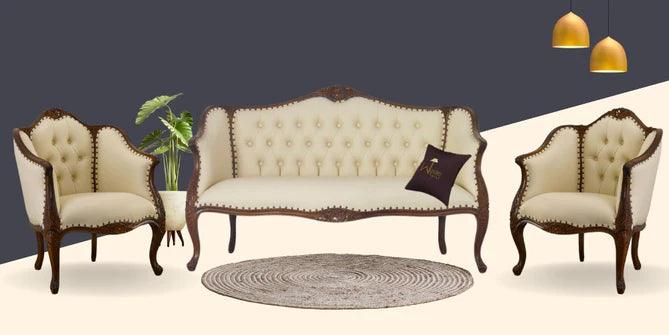 Latest Wooden Sofa Set Designs @ Buy Now
A gorgeous seat with space for two, especially a couple, is known as a Love seat. It is upholstered in colorful fabrics like pink velvet and polyester.
This wooden sofa set is one of the most stylish ones and comes in the shape of a lip or silhouette as well. The extraordinary designs and structure contribute a lot to the interior decor.
These colorful fabrics add a pop of color to the interiors. Many people even paint their walls the same color as the sofa because they want it to blend well and create a glamorous look.
The L-shaped sofas also known as sectionals are meant for bigger homes. These are large enough to even let you sleep on them with individual seats that are flexible and can be configured in many ways.
The stylish seating allows you to put your feet up and relax after a hectic work schedule. Covered in gorgeous fabric upholstery, sectionals truly make a style statement in the room.
The traditional wooden sofa set designs are still very popular in modern homes. These feature curvy arms and heavy carvings engraved on the edges.
Sometimes, the carving is given a silver or gold polish finish. This kind of seater gives a periodic look to the space and looks grand. Made in premium quality wood, these are durable and aesthetic.
If you are a fan of minimalist style and a less cluttered look then this design is best for you. It features a clean look with sleek lines and is upholstered in the finest of fabrics.
It gives a refreshing look to the interiors. Not many houses have lots of floor space and that's when we can consider a fuss-free design or one-seater.