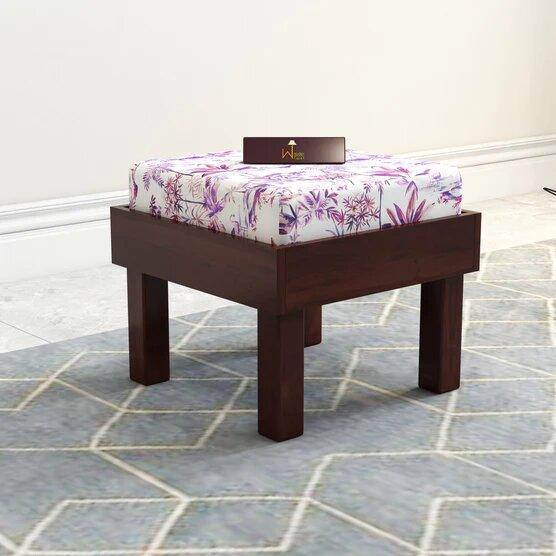 Add Style & Comfort to the Boring Spaces With A Wooden Stool
Have you ever wondered what can be the most versatile piece of furniture for the compact and boring corners of your home? Well, a stool that is often overlooked can brighten up and add utility to your dull and vacant spaces.
The modified models of a simple stool are poufs and ottomans that are highly trending these days in the world of glamour and interior design. These are upholstered in the finest of fabrics and the gorgeous designs printed on them surely make a style statement in the living room.
When we talk about the basic difference between a pouf and an ottoman, the surface area comes into the picture. A low seat without a backrest and armrest comprises the structure of a wooden stool.
One with a larger surface area and thick padded seat are the ottoman and the other with a softly cushioned small base is the pouf. There are many ways to utilize these low seats in your home.
We can combine two or three stools and make them turn into a coffee table. Place a tray of coffee and snacks over them and let them make a stylish appearance in the living room next to the sofa.
It will save you from buying a costly centerpiece and your design and comfort needs would still be met perfectly.
Many times we look for an extra table to place remotes, magazines, and water bottles on top. But, if you have bought a unique pouffe & ottoman design, this problem can be easily solved. Place it in a corner beside the Wing chair where you come to sit and enjoy a reading session in the evening. It will make a perfect spot for convenience.
Do you often look for a chair next to you when unexpected guests arrive home? Well, you can also use a sturdy stool made of wood and upholstered perfectly to provide extra seating for the guests in times of gathering.
For the patio and garden, a waterproof and weather-resistant pouffe & ottoman design can be placed. It will enhance the outdoor setup and will also add comfort to your sitting experience.
Some ottomans come with storage space inside. Their top can be removed for storing extra pillows, toys, books, remotes, etc. These become the best choice for both organization and style.
Many recliner rocking chairs come with poufs as footrests. These have the ideal height and shape to put your feet up and relax after a tiring day at work.