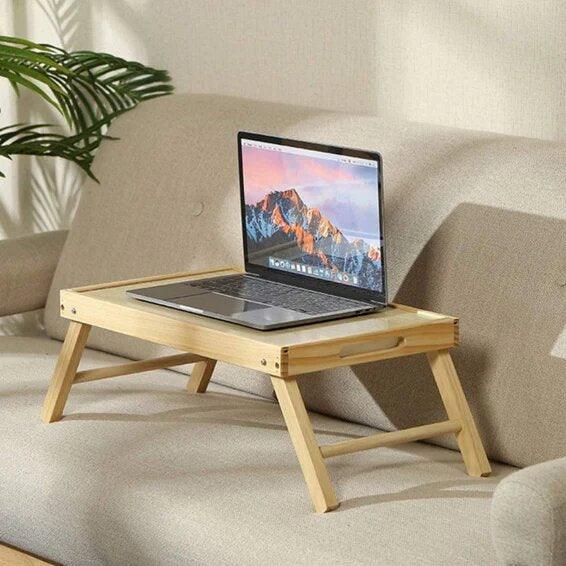 Buy Laptop Table Online & Start Your Work At Home
Are you looking for the ultimate laptop table to add a creative touch to your workspace? If so, then look no further - our wooden laptop tables are both stylish and affordable! Whether it's setting up an ergonomic office space or just curating your own home library, these wooden tabletops will do the job perfectly.
Designed with high-quality teakwood, our laptop tables offer maximum durability and style in one package without breaking the bank. Are you in search of an interesting, yet useful piece of furniture that can add style to your home's decor? Look no further! Introducing a wooden laptop table: the perfect addition to any space where you need a comfortable working station.
This unique and convenient piece of furniture will not only bring beauty and charm into your home, but it also won't blow up your budget - with its low price tag and great value for money, you can now get the best laptop table online in the UAE at the cheapest prices available!
With so many options available out there today, finding one which is suitable for both your needs and budget won't be easy. But worry no more - keep reading this blog post to find out everything about this amazing laptop table and why it should become part of your home's design concept!
Are you ready to start getting creative with how and where you work from home? A wooden laptop table is a great piece of furniture to have around the house, especially if your office setup doesn't quite cut it.
Not only will having this piece of equipment help in terms of providing much-needed stability while working at a desk or on the couch, but it can also give an artsy touch to any living space! Luckily, you don't even need to leave the comfort of your own home anymore; purchasing a wooden laptop table online is easier than ever before.
With so many options out there for each type of budget—from basic models all the way up to custom designed tables—shopping for your perfect workspace has never been simpler!
Are you looking to upgrade your work space while maintaining the rustic aesthetic of a home office? If so, buying a wooden laptop table online is an easy and budget-friendly way to give yourself some more elbow room. Not only are these tables available at discount prices in the UAE, but their wood grain finish will add a cozy yet creative touch to any space! With multiple sizes and designs available, you can find the perfect one for your setup that fits both your wallet and style. So buy wooden laptop tables today and bring nature's beauty into your workspace without breaking the bank!
Are you looking for an elegant laptop table to give your workplace an edge? Look no further! We have the perfect solution with our wooden laptop tables. Not only do they instantly add a touch of stylish sophistication to your home or office, but these wooden pieces are exceptionally affordable and comfortable - ensuring that your productivity stays at its peak.
With the widest range of patterns and collections from top brands, find the perfect fit for any aesthetic while enjoying unbeatable prices when purchasing online in UAE. It's never been easier to bring a modern flair into any space: so don't wait any longer – start shopping now!