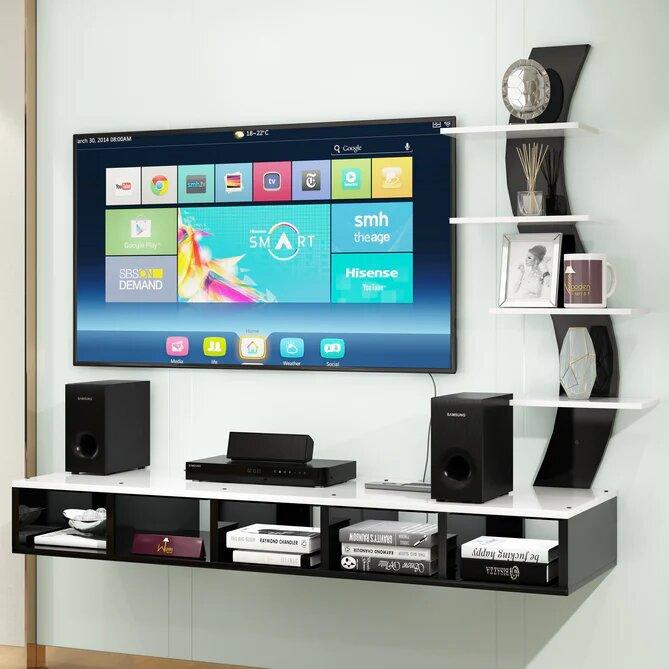 Wall Mounted TV Stands @ Hurry Up and Order Now
As Modern Televisions appear to be way more different than the idiot boxes we had earlier in our homes, the need to keep them in the right space makes us think of the various options like cabinets and stands. The slim and minimalist smart TVs do not look so perfectly placed on the cabinets as they seem to appear perfect on the wall.
Nowadays, most interior designers and homeowners prefer to mount the entertainment device on the wall. A wall mounted TV units is extremely stylish and is designed in a way to suit the structure of a slim device. There are various benefits of using it instead of the cabinets.
The TV stands occupy a very small area on the surface and leave out the rest of the portion for various uses. It promotes the minimalist decor trend and one can conveniently hang some wall shelves on the rest of the space. Unlike cabinets and other units, it makes the room look less congested.
When we buy other stands and shelves which occupy the floor space, we need to create extra room for them in a house. And as we know that most of us live in urban apartments, and the area is small. Wall mounted TV cabinets is perfect for utilizing the available portion in the best way possible and keeping the entertainment unit in place.
Wires and cables are moving behind the television and creating a lot of mess. These ruin the entire visual appearance and aesthetics as well. Modern TV units can help hide all the mess smartly and one can also organize all the accessories on the shelves.
Wooden TV units consist of floating shelves to place remotes, speakers, DVDs, etc. on the top. You can easily arrange the media accessories and organize your room. Also, homeowners can showcase decorative pieces and photo frames on these panels as well.
When we fix the television on the wall, it helps us protect it from the danger of falling and breaking. We all have kids and pets who can throw some balls or sharp objects on the device. They can also harm themselves in the process if the source of entertainment is placed near the cabinet.
Wall mounted TV units on the wall ensure the safety of all and are very much affordable too. It is durable and proves to be a long time piece of furniture for the home. The aesthetic designs also grace the interiors with style.