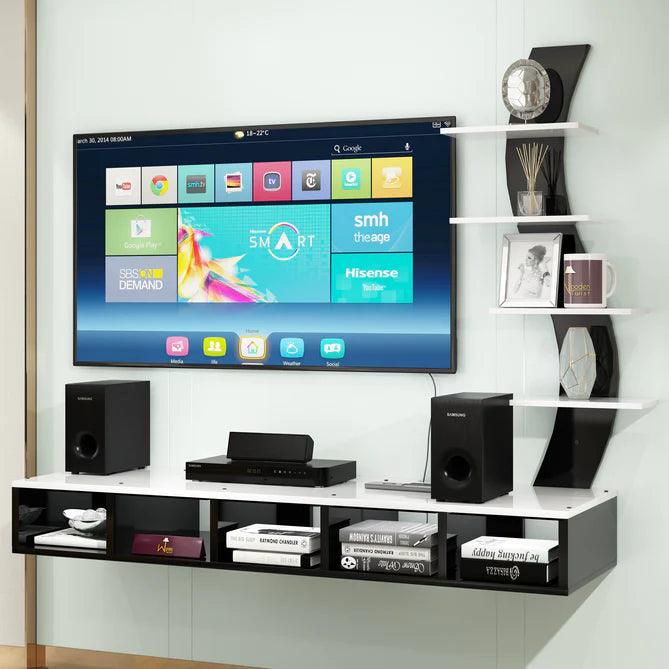 Grace Your Entertainment Area with Wall Mounted TV Cabinets
Isn't your Living room the focal point of attraction in the house? Well, you must have incorporated a glamorous sofa and stunning centerpiece and we are wondering if you might be on the hunt for a TV stand next.
Nowadays, In the era of smart Televisions, we need stylish stands as well to mount them on the surface. A console or a Table can be boring sometimes and occupy a lot of space.
Today, The Top Interior designers and Homeowners prefer Wall Mounted TV units as these have a lot of benefits than others. These will provide you with the best viewing experience and nobody can deny that. If you are confused about the option for this unit then read on to the Top reasons for installing the same in the house.
If and when you choose to install a TV unit in your home, you must go through the various designs that are super stylish and can enhance the overall ambiance of your living room.
We suggest you go for the one which is a mixture of wood and white. It would complement various kinds of decor themes, be they traditional or contemporary. This design is one of the reasons people choose to install these units.
Wooden TV cabinets are not just practical but also can be aesthetically pleasing as you wish. One can display photo frames, vases, figurines, travel souvenirs, etc on the top of these shelves.
Floating shelves are a part of the structure or you may also attach various sets as per your requirements to display your favorite collection of books or artifacts.
Many houses run short on space when they install big tables and consoles. These make the whole area congested and ruin your aesthetic too.
Wall Mounted Cabinets can attach the TV to the wall and that's how one doesn't have to think about the floor space before installing the same. Only a plain wall is required.
The latest designs in the range of entertainment units are a complete package. They consist of shelves and drawers to store media accessories like remotes, DVDs, set-up boxes, etc.
One can also display their collection of magazines, and CDs and even place the Home Theatre system. This whole system hides the unnecessary wires from sight as well.
Wooden TV Units are way more durable and sturdy than glass and metal ones that hold the Television in one place. These can keep the device safe and protect anyone from harm. Children and pets can't harm themselves like they often do when a console is used for placing the device.
The Wall Mounted Entertainment Units are highly affordable and can be available on different furniture websites. You only have to set a budget in advance to get your hands on reasonable prices for you. The prices are almost half of the bulky stands and tables that we spend so much on.