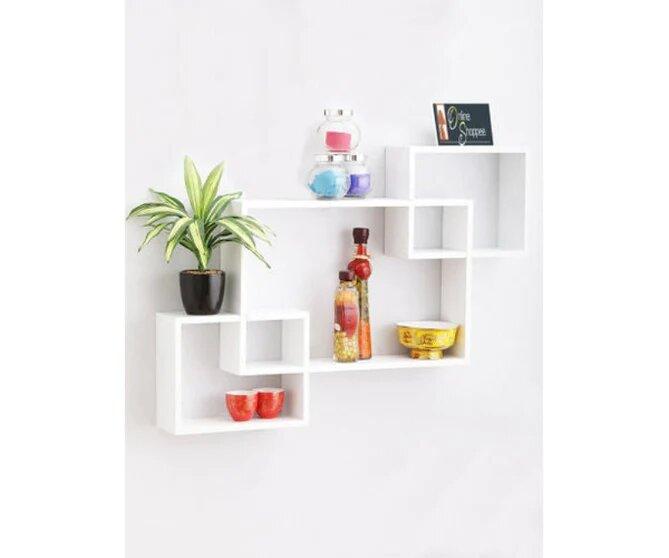 Designer Wall Shelves for Bedroom in Dubai, UAE
Have you ever stared at the blank walls of your home and wondered what can be done to decorate them? Well, even the mess of your home can be organized by mounting a wall shelf.
There are different types of shelves available in several online and offline furniture & decor stores. The most popular and stylish are wooden wall shelves as these can blend well with the texture of the wall and appear to be floating devoid of any visible support. They make the room look bigger and lighter.
Floating shelves are one of the nicest Interior design trends and can add to the style quotient of your home. One can choose to display the most gorgeous decorative pieces like vases, candle holders, showpieces, etc on the top of the racks that appear to float on the wall.
Decorating a shelf with your favorite art frames and ornaments can help you display your unique personality and style. There is no reason for you to not style your home with this unique shelf.
Stylish
A floating shelf comes in a myriad of designs like Zigzag, Hexagonal, Ladder shape, S shape, etc available in many colors to brighten up your home decor. There is a floating book design that slits inwards once you place books on the top and it makes the book appear to be on the wall without being placed on the rack.
The designs are extraordinary in their style and functionality. Floating wall shelves are sleek in design with a clean and minimalist look. They take up less space on the wall and make the room look less cluttered and congested.
Durable
Most of us think that floating shelves are just visually appealing and aesthetic. These are not made to hold or store heavy objects. Well, the Durability and capacity depend on the kind of material they are made of. Plastic, wood, metal, glass, etc are commonly used in making shelves.
If you go for wooden shelves, those last longer than shelves made of any other material. Also, those made of wood hold high strength capacity to store heavy literature hard covers and daily use essentials. Also, what contributes to the strength and sturdiness is the type of wood, hardwoods like oak and teak are more durable than softwoods like Pine.