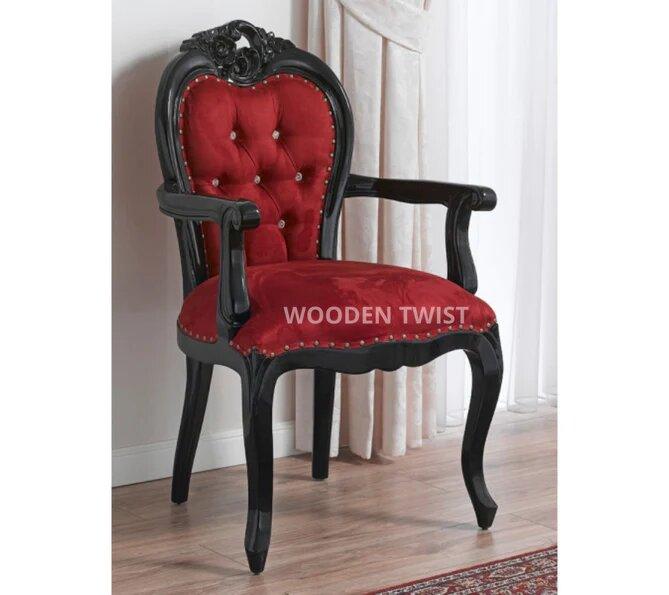 Armchairs in Dubai @ Order Now
If you're looking to add a touch of wooden elegance to your living space, then look no further than Wooden Twist's range of beautiful armchairs, which are perfect for any home! Whether you want something modern and minimalistic or something more ornate, we have the perfect piece for you.
Our designs come from all over the world, from Scandinavia to Morocco, with unique shapes and styles - plus affordable prices. So why not explore our selection today? From wild colours to natural-hued woods – our collection is sure to bring some stylish comfort into your living room.
If you're looking to add a unique twist to your living room decor, an elegantly crafted wooden armchairs is the perfect addition. With its timeless classic style, durability and comfortable design, a wooden chair will make an inviting spot for relaxation in any living space.
Wooden Twist has just released their latest collection of designer armchairs featuring intricate handcrafted designs for superior comfort and beauty. Whether you prefer modern minimalism or lavish traditional styles, Wooden Twist has something to match your personal style and finish off your dream home furnishings today!
Does your home need a modern, yet classic touch? Looking for something to mix and match with the other furniture items in your living space? Wooden Armchairs from Wooden Twist might be just the thing you're looking for! Our inviting designs aim to provide maximum comfort while adding an extra layer of charm to any room, no matter what its style is.
Our selection ranges from traditional pieces—detailed armchairs crafted with durable materials like walnut and beech wood—to more contemporary styles such as mid-century modern. Whether you're bringing a full set into your house or only choosing a single armchair, our sophisticated products will make sure that every space looks its finest.
Ready to explore a new comfort in furniture design? Let us introduce you to Wooden Twist's stunning range of wooden armchairs—a collection that brings together natural materials, intricate craftsmanship and unique shapes to create a modern furniture piece full of character and elegance.
From the geometric lines of the Bridge water Chair to the popular curves featured on the Barcelona Armchair, each one-of-a-kind chair is expertly crafted from carefully sourced wood, an array of rich fabrics and sophisticated finishes for timeless style.
Plus, their commitment to sustainability makes them even more irresistible! Now all that's left for you to do is pick your perfect seat – take some time today browing our latest selection!
For those seeking to add unique style and sophistication to any room's decor, look no further than Wooden Twist. Featuring an amazing assortment of top quality wooden armchairs design handcrafted by experienced carpenters, these sleek designs are stylish yet comfortable and they'll blend in perfectly with a range of other furniture pieces.
Not only will you get the perfect synthesis of design and comfort with our selection, but we also ensure high durability through regular maintenance checks. So if you're ready to take your home décor to the next level, check out our collection today!